From time to time I have prospective clients ask me to provide website content that will get the to the top of Google's page rankings (for very competitive terms and often by purchasing a handful of blog posts).
Others, I know, have invested thousands of dollars with 'SEO experts' who have given them what they wanted for a short moment in time, only to crash and burn when their clever strategies have been thwarted by changes to the way Google analyzes the different elements of a website, each page on it, and how each page may interact with other sites.
Google has always told us that its main objective is to deliver the most relevant results to those who use its search engine. It is in a constant battle with those who devise and employ strategies that would seek to manipulate those results to their own, or to their clients' advantage.  Up until 2 years ago it seemed that the manipulators were always one step ahead of the search engines, but by metaphorically, and some times literally, shutting down the vehicles that make those strategies possible, Google is back in charge.
The best way for a site or page to rank well is for it to contain original content that is worthwhile, well-written,  relevant (and therefore sharable), and this infographic from PPCBlog, illustrates the basic steps involved in ranking websites using organic and paid methods.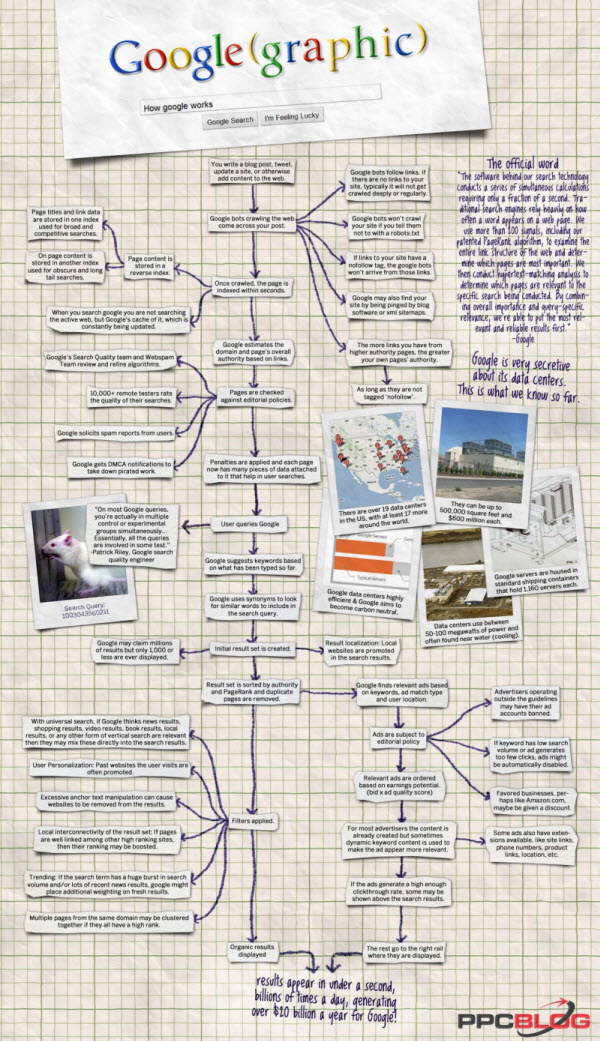 Infographic by the Pay Per Click Blog
Content Marketing Strategies for Organic Search
So, just focusing on  ranking for organic search (i.e. not paid advertising), the process is:
Research, write/film/record and publish your content
Google bots crawl web and find your content
Google bots index content
Google estimates your page's authority and relevance using over 100 signals including the Page Rank algorithm and Hyper-Text matching analysis
Google checks for compliance with its editorial policies
Penalties may be applied or data that can help user searches may be attached to the page
User types a search term
Google suggests some keywords as the user types
Google creates initial results and sorts them according to authority and Page Rank, and then removes duplicate pages (from the same site) from the initial results
Google further refines initial results by applying some filters that are based on your website content, including relevance of headings  to copy, repeated use of keywords, presence of terms it would expect to find relating to the topic (semantics), the 'authority' of the sites to which you link, and the 'authority' of the sites that link to that page.
Finally, just seconds after the user types a search query, Google displays the top results that its system has determined are the best results to the query.*
*It is worthwhile noting that Google remembers pages that you have visited before – called 'search history personalization' – and will include these in the top search results. For example, if you keep visiting the site of a competitor, you will find that it will always appear at the top of the list – Google 'believes' it is doing you a service by giving you one of your favorites!  The same applies if you search for your own site often – it will be there at the top.
Turn off Search History Personalization
How to improve search rankings using content
Publish fresh content regularly: Google prioritises the most recent content featuring search terms that have a sudden surge in search volume or which appear frequently in search results.
Publish in multiple sites: Google may include other types of search results such as news, shopping, book, and video results.
Get quality inbound links: Links from  authority sites that rank well, and increasingly, social media, can boost your search rankings.
Use only original content: Not duplicated on pages within your site, and not content that has been published on other sites.  Your website is the online face of your business, treat it with respect – and invest in its longevity by only publishing high quality, original content.  Duplicate pages within the site are automatically removed before Google displays its search results.
Other best practices for improving search rankings include keyword usage in different pages of your website in order to get a cluster listing and appropriate use of anchor text, and attach relevant descriptions and text to your images.
With the above in mind, it is perhaps not surprising that the number of online marketing businesses that offer services to get clients great rankings, quickly, has diminished. Google has slammed the door on many of the strategies they used, and sadly it has impacted on their clients' online presence as well as their own businesses.
My advice for better website and page rankings?  Give Google what it wants. And if you need help with this – give me a call or email!